ULTIMO UNIVERSO AKAGERA *31. 8. 2014

BH, IPO 3, ZTP Sg 1A, HD A, vWD clear

Ultimo is male with strong nerves, with high drive and very good temperament. Is vigilant to strangers, but loves his owner. Ultimo would be ideal personal protection male. Suitable for service. Ultimo is in preparation for IPO. He needs owner with some experiences.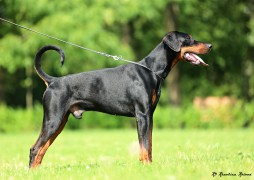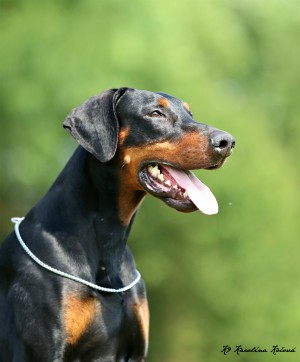 Pedigree:
Harlequin Gumby
IPO 3, FH 2, ZPS 1, World champion IDC IPO 3, ZTP V 1A, HD A

Kravallo vom Schmiedbauergut
IPO 3, SchH 3, ZTP, HD A

Jano von Bayern
IPO 3, SchH 3, ZTP Sg 1A, HD A

Yago von Bayern
IPO 3, SchH 3, ZTP Sg 1A, HD A

Cassi von Bayern
IPO 3, SchH 3, ZTP V 1A, HD A

Cendra von Carnarius
IPO 1, SchH 1, HD A

Hägar vom Olymp
IPO 3, SchH 3, FH 1, ZTP V 1A

Nora vom Eifelturm
SchH 3, ZTP Sg 1A

Dafne Gumby
IPO 3, SchH 3, HD A

Coop Gumby
IPO 3, SchH 2

Gabor von Castell
IPO 3, HD A

Bina Gumby
IPO 1, SchH 3, HD A

Indiana Bohemia Gotika
IPO 1, HD A

Como Jivono di Matario
IPO 2, SchH 1, ZTP V 1A, HD A

Dedra Bohemia Gotika


Diksi Glenaik
IPO 1, HD A

Titan di Altobello
IPO 1

Obi Shultz di Campovalano
IPO 1

Eagle di Campovalano
ZTP V 1B

Ronda di Campovalano


Gibsy Casa di Oz


Casanova di Altobello
IPO 1

Baronesa Zova Renewal
HD A

Kleopatra Ukr-Bakkara
IPO 1

Tsarevich iz Slavnoi Stai
IPO 1, HD A

Baron Nike Renewal
SchH 1, ZTP V 1A, HD A

Indira von der Räuberhöhle
IPO 1, HD A

Zabava Ukr-Bakkara


Sant Kreal Nivago
IPO 1, SchH 1

Barbarossa Bakkara