QWANDOR QWANN Z HELFSTYNA *6. 1. 2007

actualy X-ray of here

13 month old brown male, strong sceleton, elegant physique, excellent origin, with any exterier defect. Very ebullient, contact, not agresivly, very teachable, handy. The obedience on BH level, available for every activity, sport, army, police or like excellently companion. He loves a children.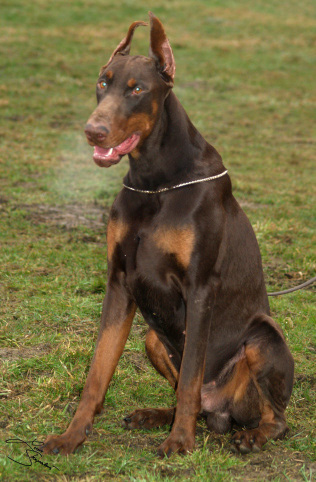 The pictures of Qwandor 4/2008 are here.

Father: Jch. Eria Pro Red River - Juniorchampion CZ - SK, National winner, Club winner, IPO 1, HD-B
Mother: Harnony Helfenstein z Gor Przeznaczenia - Junior winner, CAC, HD-B
The pictures of Qwandor are here.

Pedigree:
Juniorchampion, National winner, Club winner, BOB...
Eria Pro Red River
IPO 1, HD-B
Junior winner
Irinland Eros Erato
ZTP V 1A, IPO 1
Ich. Jiwago v.h. Wantij
SchH 3, IPO 3, Körung, HD-A

Ich. Irinland Zena Zeyfu
SchH 1, ZTP, HD-A
Eria Pro Lilia Blanka
HD-A
Matador v. Rauberhöhle
HD-A
Eria Pro Artemida Gilea

Junior winner, CAC
Harnony Helfenstein z Gor Przeznaczenia
HD-B
IDC + DV winner
Ich. Navarre di Villa Castelli
IPO 3, ZTP V 1A, HD-A
IDC winner
Ich. Icaro di Villa Castelli
SchH 1, ZTP, HD-A
Dea di Villa Castelli

Florence von Karpatia
HD-A
Ich. Jivago v.h. Wantij
IPO 3, Körung, HD-A
Sofie van hof ter Eeckhout
IPO 1