FOR SALE

NAPALM EUROPEAN K9 TRAINING BASE *29. 6. 2018

X-ray of HD is HERE, X-ray of ED is HERE

Napalm is very nice young male with strong bones. He has extremly nice character, he will be great family protection dog. He has basic training in track, obedience and protection. He is trained for personal protection. Napalm loves people and children.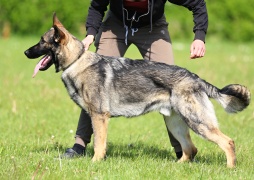 Pedigree:
Dinoso vom Eisernen Kreuz
IPO 3, FH 2, HD/ED normal

Quardes von der Staatsmacht
IPO 3, SchH 3, HD fast normal, ED normal

Agent vom Wolfsheim
SchH 3, IPO 3, FH 2, part. WCH WUSV, HD/ED normal

Justin vom Pendel Bach
IPO 3, SchH 3, HD normal

Noditha vom Teufelsgrund
SchH 3, HD normal

Gracia von der Staatsmacht
SchH 3, HD fast normal, ED normal

Olex de Valsory
SchH 3, HD normal

Orla von der Schiffslache
SchH 1, HD normal

Yucca von der Mohnwiese
SchH 1, HD/ED normal

Tyson von der Adelegg
IPO 3, HD/ED normal

Ellute von der Mohnwiese
SchH 3, FH 1, HD normal

Desch von der Adelegg
SchH 3, HD normal

Bira von der Teufelskehle
SchH 3, HD/ED normal

Tyson von der Schiffslache
IPO 3, SchH 3, HD normal

Wilma vom Ketscher Wald
SchH 3, HD normal

Woltair Gaja-Nova
IPO 3, HD normal

Hasko vom Fern-Tal
SchH 3, IPO 3, part. WCH WUSV, HD normal

Gauner vom Fern-Tal
IPO 3, SchH 3, HD normal

Ida von Haus Nessalc
SchH 1, HD normal

Chira Gaja-Nova
IPO 3, HD/ED normal

Quasy von der bösen Nachbarschaft
IPO 3, FH 1, World champion WUSV, HD normal

Eire Gaja CS
SchH 2, HD normal

Alexa Moravia Campanella
IPO 1, FH 2, HD/ED normal

Gringo von der Mohnwiese
IPO 3, SchH 3, part. WCH WUSV, HD normal

Tom van't Leefdaalhof
SchH 3, IPO 3, World champion WUSV, HD normal

Bleia von der Mohnwiese
IPO 3, SchH 3, HD normal

Jera Jipo-Me
ZVV 1, HD fast normal

Faro Policia
SVV 1, HD / ED normal

Ossi z Antdagu CS
ZVV 1, HD normal